Holiday home
France
Lorraine
...
Rent it at Chalet.nu
Search holiday homes in ...
France
 or
choose another country
Alsace
Corse
Limousin
Paris/Ile de France
Ardèche
Dordogne
Loire
Picardie
Atlantic Coast
Drôme
Lorraine
Poitou-Charentes
Auvergne
Franche-Comté
Mid-Pyrenees
Provence-Alpes-Côte d'Azur
Brittany
French Arden
Normandy
Rhône-Alpes
Burgundy
Jura
North/Street of Calais
Southern Alps
Centre
Languedoc-Roussillon
Northern Alps
House Code: FR-2356

5
1
2
€ 378,-
 
Apartment Chajoux 3, La Bresse, Lorraine - France (FR-2356)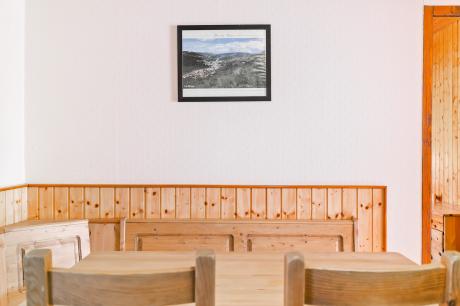 Description:
Just 2km from La Bresse with beautiful views of Chajoux valley, a renovated appartment (43m2).
Beautiful walks in the surrounding area. Fishing and swimming in the lac de Corbeaux. Langlaufing and skiing in the winter (4km).
Layout:
On 1st floor
livingroom
open plan kitchen

combi microwave
freezer
fridge freezer
french doors

bedroom
bedroom
bathroom
General
internet access (WiFi)
tumble dryer (shared with other guests) (paid)
washing machine (shared with other guests) (paid)
heating (electric)
patio (shared with other guests)
garden (shared with other guests) (fenced)
garden furniture
BBQ
bowling alley
sandpit
play area
cot (on request)
high chair (on request)
Location
La Bresse
1,5 km
100 m
5 km
2 km
2 km
27 km
1,5 km
2 km
Extra Costs
Included
Optional
For rent, € 8 p.p../Stay per person
For rent, € 4 p.p./Stay per person
For rent, € 3 per Stay per stay
Mandatory
€ 200 per stay
€ 30 per stay
Sep - Jun: € 0,15/kWh per kWh
indication € 0,83 /person/night
Other
Max 1; € 4/Night
Jul - Aug: included
Not present
Reviews
2
Last review
Ms Patricia V.
04-11-2011
Het appartementen-complex staat in een mooie omgeving,wat ons vooral aansprak was de grote tuin,waarin de kinderen heerlijk hebben gespeeld.Hier kon je ook zelf lekker buiten zitten en dat hebben we ook regelmatig gedaan.Door de grote van de tuin had je ook voldoende privacy.Het appartement waar wij in verbleven is duidelijk aan renovatie toe,het werkt allemaal wel,maar alles is wel verouderd.Het.....